Emma Triplett
Emma founded Old Town Hypnotherapy which has been based at Wood Street Wellbeing since 2011.   She is an experienced professional hypnotherapist, passionate about helping people to understand why emotional and mental health distress shows up in their life and what they can start doing immediately to ease the pain.
Emma covers a broad range of issues including anxiety related disorders, stress, workplace mental wellbeing and weight loss.  She has a particular interest in depression and is the author of the best selling book in its category 'Stepping Out of the Cloud' You Can Beat Depression, This is How, and has also written and produced the online interactive course The Depression Fix. Which was showed as being statistically significant in helping depression during two clinical trials.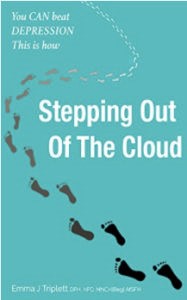 Emma is a member of the Association for Solution Focused Hypnotherapists and the Complementary and Natural Healthcare Council and is bound by their code of practice. Emma maintains full Public Liability and Professional Indemnity Insurance.
"*Before my weekly visits with Emma i was suffering horrendous panic attacks was incredible depressed was on a lot of medication and i hadn't slept through the night for well over 7 months.  The sessions were so relaxing and left me feeling full of energy after every visit, my friends and family noticed the dramatic difference in me very quickly. I now no longer take any medication and sleep like a baby.  My life is so positive now and I have fulfilled 2 goals already after only 4 months from the end of my sessions that I don't recognise the person I was before I went to see Emma, she truly is amazing."  Stella, Swindon
*Results may vary from person to person
Specialist in: Hypnotherapy.